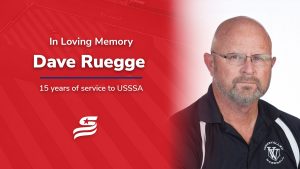 To our team members and the USSSA community, 
It is with great sadness that we share that Dave Ruegge, Nevada USSSA Baseball State Director recently passed away. Dave has been a valued member of the USSSA Baseball team since 2008, providing 15 years of unparalleled service to USSSA and his local baseball community. He will be greatly missed.  
Mike Evans, Nevada Baseball Event Director said, "This baseball community has been a significant part of The Ruegge Family for the past 30+ years. Dave valued every one of his relationships, turned friendships, that he made within this community."
"Dave Ruegge was not just a State Director for USSSA in Nevada; he was a beacon of dedication, enthusiasm, and integrity for our sport. His unwavering commitment to youth athletics transformed the landscape of travel baseball in Nevada, fostering a culture of competitiveness, respect, and love for the game. Dave's legacy will be etched in the countless lives he touched, the players he helped shape, and the community he tirelessly served. His absence will be deeply felt, but his influence on Nevada's baseball community will live on," added Frank Griffin, USSSA Baseball National Director of Operations.
 
Please keep Dave's family and friends in your thoughts as they endure this difficult time.
 
For those who wish to send messages directly to Dave's family, please send to DRuegge1953@Gmail.com. In lieu of flowers, please make a donation to https://www.bcrf.org (Breast Cancer Research Foundation), an organization that Dave supported for the women he loved, or to any other charity of your choice. A celebration of life will be arranged at a later date.