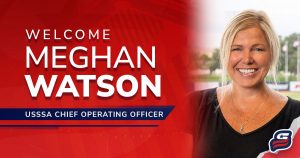 The United States Specialty Sports Association (USSSA) is pleased to announce the appointment of its newest Chief Operating Officer, Meghan Watson.  Meghan's immediate focus will be on further assessing organizational needs, both now and in the future, to develop effective strategies and solutions to strengthen USSSA and ensure our collective success.  Her appointment as COO is a testament to her exceptional leadership skills and unwavering commitment to the organization's strategic goals as she has been serving USSSA as a consultant on special projects since 2017.
Meghan brings over 20 years of consulting experience in a variety of industries that will benefit operations at National Headquarters as well as our engagement with USSSA Directors and stakeholders in the field. Her independent perspective and practical yet creative solutions as well as her ability to establish long-lasting relationships and willingness to take on new challenges make her a great fit for USSSA.
Meghan shared, "I am honored to step into the COO role.  I'm incredibly grateful for the opportunity to join this fantastic team full time and combine my love of sports with my professional life!  While my familiarity with USSSA combined with my business background will be valuable as we move forward, I strongly believe in empowering and supporting individuals to be able to do their best work.  I'm excited to see what we can accomplish together!" 
"Meghan has been an asset to USSSA for more than six years. Her operational skills, unique business perspective and proven track record where problem solving, and communication skills are critical within large organizations are highly regarded. She is extremely results-driven and is a dynamic leader. As she transitions into a full-time position, we are confident she will be an incredible addition to the Executive team at USSSA," added Donny DeDonatis, CEO of USSSA.
Meghan lives in New Jersey with her husband Josh and three kids – James (19), Ryan (17) and Fallon (10).  She loves to travel – including plenty of trips with her boys for baseball and soccer – and spend time at the beach with family and friends.  Fun fact: she and her husband both worked (at different times) for the Trenton Thunder, former AA affiliate of the NY Yankees. She will be right at home at USSSA Space Coast Complex!
Please join us in wishing Meghan success in her new role!